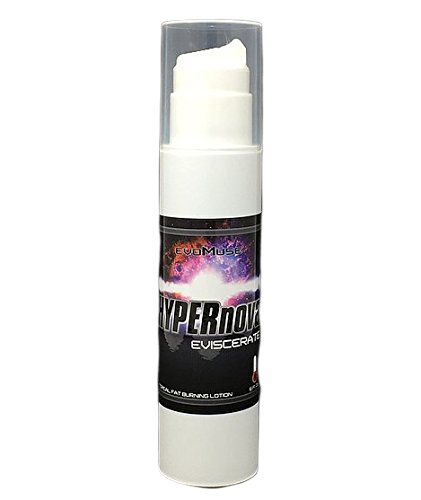 Evolutionary Muse
Eviscerate HYPERnova
---
Eviscerate HYPERnova | The Hypercharged Fat Loss Topical
HYPERnova™ (the SUPERNOVA™ upgrade) is a four-pronged attack on fat. As you know, the original Eviscerate™ formula dealt with increasing lipolysis by acting directly on fat cells via localized delivery of active ingredients to subcutaneous fat cells. SUPERNOVA changed the game by both incorporating a potent 11β-HSD inhibitor (to target visceral fat) as well as bringing in two of the main active ingredients from BRITE™ — Phytol and Bitter Melon Seed Oil — to facilitate the browning of the subcutaneous fat.

HYPERnova now adds the angles covered by Defuse™ and Defuse Perpetua™ by targeting fat cells before they are even able to accumulate fatty acids. By blocking key enzymes and pathways involved in lipogenesis/adipogenesis, it will prevent the storage of fat — especially around the midsection — but will work wherever applied. This works hand in hand with the other three prongs to keep fatty acids circulating for more rapid burning, and will result in rapid leaning. It makes no sense to wait until fat is actually deposited into fat cells, and then trying to wrangle it back out again to burn it. Burn it before it even gets a chance to be stored!


Eviscerate HYPERnova
6 fl oz.

Isopropyl Alcohol, Water, Benzyl Alcohol, Bitter Melon Seed Oil, Triglyceride Complex, Lecithin, Raspberry Ketones, Theophylline (component of Cocoa), Euphorbia Kansui Extract, Dryopteris Crassirhizoma Extract, Aminophylline, Yohimbine HCl, Caffeine Anhydrous, Cetearyl Isononanoate, Ceteareth-20, Cetearyl Alcohol, Glyceryl Stearate, Glycerin, Ceteareth-12, Cetyl Palmitate, Glucosamine Sulfate, Sesamol, Piperonal, Methyl Cinnamate, Ligustrazine, Matrine, Bergenin, Resveratrol, Octyl Salicylate, N-Methyl-2-Pyrrolidinone, D-Limonine, Rosehip Ellagitannins, Banaba Extract, Beta-Escin, Zinc Sulfate Monohydrate, Polyacrylamide, C13-14 Isoparaffin, Laureth-7, Carbomer, Triethanolamine, Stearoyl Vanillylamide, L-Menthol.

Directions: Apply 3-4 pumps over entire ab area or other stubborn areas.

---
Share this Product
---
More from this collection