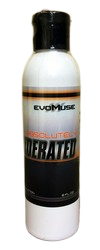 Evolutionary Muse
Absolutely Abliderated
---
Absolutely Abliderated | The Visceral Fat Targeter
Absolutely Abliderated™ delivers potent cortisol blocking ingredients into local adipose tissue, blocking the signal for the body to create deadly visceral fat, as well as blocking inflammatory adipokines from sabotaging fat burning.
Results are a rapid and dramatic decrease in waist circumference.
Absolutely Abliderated
6 fl oz.


Isopropyl Alcohol, Water, Benzyl Alcohol, Cetearyl Isononanoate, Ceteareth-20, Cetearyl Alcohol, Glycerin, Ceteareth-12, Cetyl Palmitate, Octyl Salicylate, D-Limonene, Soy Lecithin, Euphorbia Kansui Triterpenoid Extract, 7-OXO DHEA, Phosphatidylserine, 50% Chlorogenic Acid Green Coffee Bean Extract, Omega-3 Complex, Magnesium Chloride, Hydroxyethyl Acrylate / Sodium Acryloyldimethyl Taurate Copolymer, Nobiletin, Cholecalciferol.


Directions: Apply 3-4 pumps over entire ab area.
---
Share this Product
---
More from this collection